Expert Colour Research Compagnie Theater
22 August 2022
Stratigraphy of columns on the 2nd floor. The arrow indicates the original finishing stage.
Paint sample CTA-M01, (upper half) entablature under vault, viewed from below.
Today we received the Restauration Research expert Josefien & Co report: "An exploratory color study of the original interior finish"; an Allard Architecture commisioned color study into Compagnie Theater's columns, window and frame wood and large cornice in the interior of the former Restored Evangelical Lutheran Church (1792) and the vault (1881).

From the work description of 1833:
The panelling of the upper gallery was 'coloured', this was also to be done on the second gallery 'with boiled oil turpentine, but not too dark.

Working with, and receiving results from experts like Josefien & Co, ground us in our every day work and asserts our office mission to give old buildings new life whilst respecting their legacy.

Mostly reports like these remain internal documents, we believe in the beauty of it ... hence a taste of it for you to enjoy!

Author
Josefien & Co
Bureau voor restauratie en kleuronderzoek ir Josefien Tegelaar
Boomgaard 54
1432 LB Aalsmeer
Related pages
Columns restauration at De Ruyterkade 139
8 February 2022
Details of column restoration process
Related pages
White smoke for Companietheater development
19 January 2022
White smoke for Companietheatre renovation proposal
AEW, Tetris and Allard Architecture are proud to have received green light for their proposal to transform the momumental Companietheater building into a residental building. The above partnership expects the renovated building to attrackt great interest of well established industrial coorporate leadership, in the heart of the city of Amsterdam.

The building —with it's foundations dating back to mid 1500— has housed a hospital, a church, De Nederlandse Bank and last a theater in it's many years of existence. The many historic columns of the building will provide an unmistakable character to the new occupants.

Building activities are planned to start mid 2022 and we will continue to provide updates on important milestones.
Related pages
Another day another excitement
13 July 2021
Enourmous sarcophagus in excavation
One of the wonderful perks of our job is the excitement of excavation. Working in the heart of the city of Amsterdam with it's century old buildings we often encounter many years of 'doing building'.
Legalising a lovely roof terrace
9 March 2021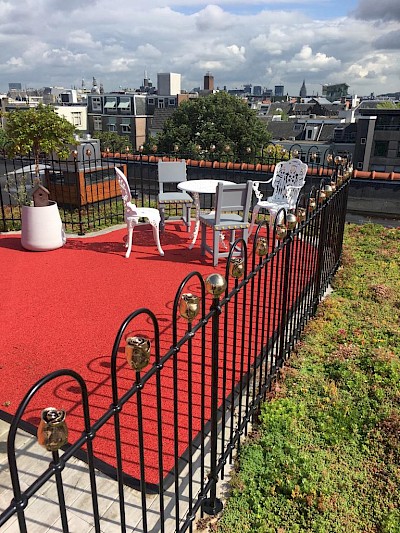 New Website
3 January 2020
allard architecture is pleased to announce the launch of its new website.
This new website allows a better understanding of our achievements and the spirit of the team.
EDAM 500-year-old wall demolition
11 December 2019
allard architecture, as well as Henri Willig and the construction team gathered on the building site to celebrate an important event: the demolition of the first bricks of this 500-year-old wall.
The bricks will be preserved and reused in the museum as a souvenir.
EDAM under construction
28 October 2019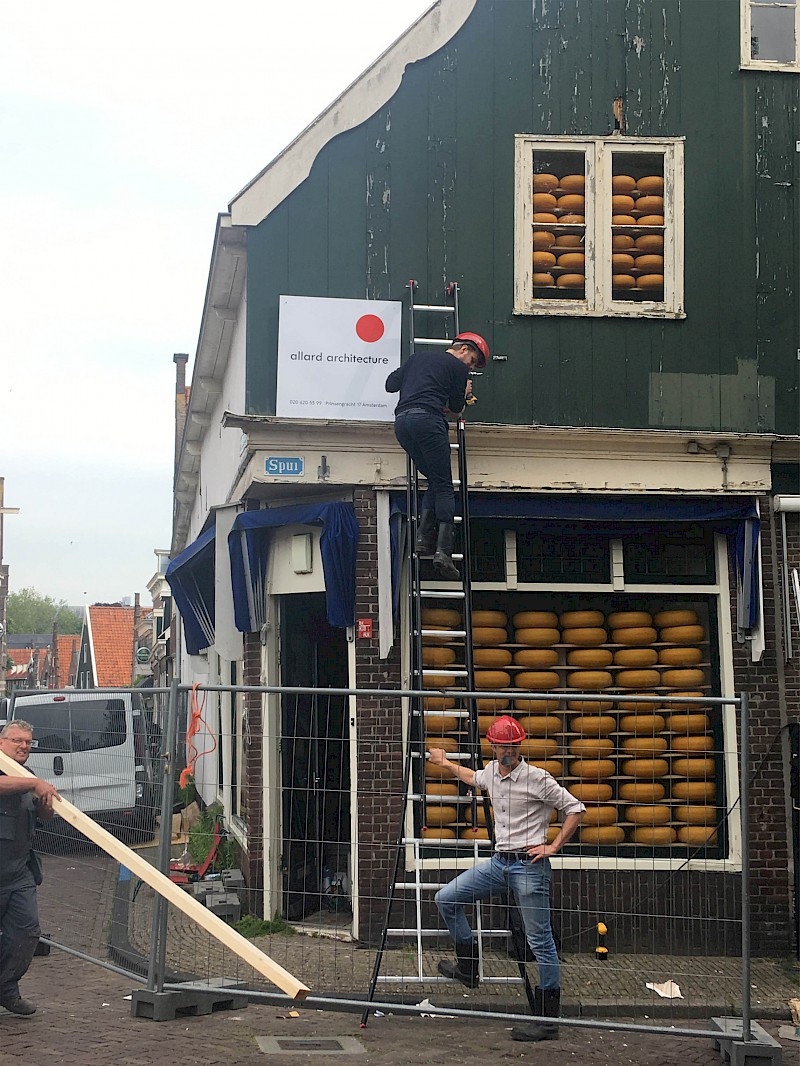 EDAM, the old cheese shop and the future cheese experience, is now under construction.
De Woezel Building Permit Obtained
4 July 2019
De woezel, a project that has been in progress since 2009 and has experienced significant development, has obtained its building permit.
This is an important step for us and we are looking forward to the next phases.
Office visit at NEMO
1 July 2019
Today, we had the chance to welcome award winners from the Renzo Piano Building Workshop to visit a shared achievement, the NEMO restaurant.
Enjoying the sun in the city center
27 June 2019
Happy to enjoy the summer days in front of the office, in the heart of the historical center and with a great team.
We have moved
2 February 2018
allard architecture are pleased to announce that we have moved. We have relocated to our new office with the following address:

Prinsengracht 17, 1015 DK, Amsterdam.

Our telephone number will remain unchanged.

This move is a step forward for us and we could not be more excited about our new space. The new and bigger office provides us an ability to expand but also has a direct connection to the street and canal. Enabling us to proactively interact with Amsterdam's streetscape.
EECA Annual Congress
8 June 2017
allard architecture was invited to the 50th ECCA Annual Congress. Internationally renowned architect Massimiliano Fukas and also former boss of Allard gave the keynote speech which was captivating. In the afternoon, Allard sat on a panel to discuss "The circle of life" which was highly interesting.
The event was an stimulating blend of both supplier and architectural industries and was an example of how we should and can better work together
Allard Architecure at Provada's press release
31 May 2017
allard architecture is attending Provada's press release 2017. It is an event that takes place over three days and he shall be presenting our project, Riga Ontwerpgebouw which is currently building onsite in collaboration with Imagewharf.
For more info on Imagewharf please click here.
NEMO rooftop terrace official opening
22 April 2016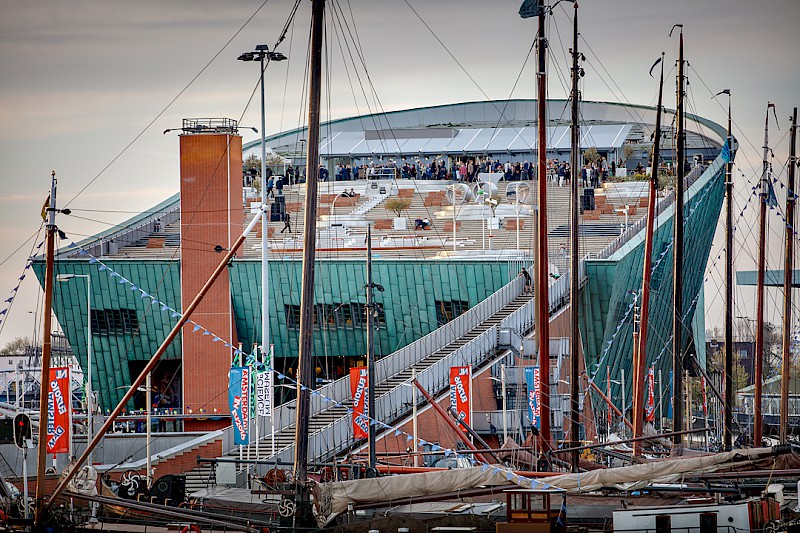 The NEMO's Rooftop terrace is now officially open. Boasting beautiful views of the city, there is an outdoor exhibition on The Elements.
More information can be found here
X2 is under construction
17 March 2016
X2, neigbouring to XITE HQ, is now under construction
For more on XITE click here
Summer house completed
19 February 2016
Construction of a summer house near the lakes of the Kaag in South Holland has finished!
NEMO Rooftop Restaurant Now Open
4 August 2015
The new restaurant addition by Renzo Piano Building Workshop on the roof of the NEMO Science Centre in Amsterdam is now open!
More information can be found here.
XITE HQ Office Launch Party
4 June 2015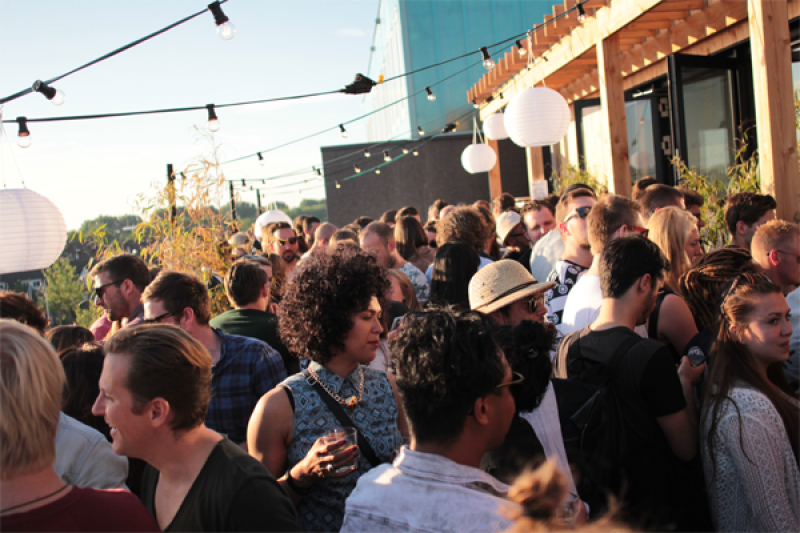 XITE marked their official move-in to their new Amsterdam-North location designed by allard architecture with a roof party on Thursday. The event was a great success for XITE and everyone involved.

Check out the XITE website here.
Parool XITE HQ Review
27 May 2015
Ronald Hooft of the Amsterdam design firm Prast & Hooft wrote a very positive review of the new Xite headquarters under construction in the up-and-coming Amsterdam North. The article appeared in the newspaper Het Parool last week.
UPDATE - XITE Under Construction
18 May 2015
Construction on the site of the XITE project is well underway in Amsterdam North! The opening is scheduled to be this June.
UPDATE - NEMO Addition
15 May 2015
The new addition to Renzo Piano's NEMO science center in Amsterdam that allard architecture is working on is progressing! Here's a photo sent to us courtesy of Jouke Konijn of NEMO.
Kunstencluster Public Presentation
15 February 2014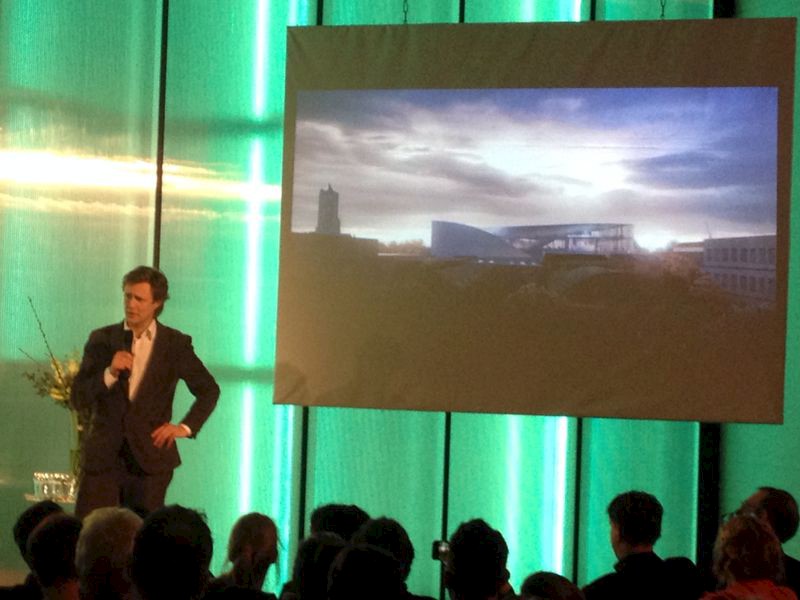 Allard gave a public presentation of BIG and allard architecture's Kunstencluster/ArtA proposal to the public in Arnhem today.
Kunstencluster Arnhem
18 December 2013
allard architecture + Bjarke Ingels Group as a combination are shortlisted for the new Kunstencluster in Arnhem. We are selected for the second round in the tender process, and are now asked to formulate a vision on this new 10000m2 cultural building.
Connie Palmen's AA Bookshelves
11 January 2013
The national paper NRC featured an article about the workspace of a well known writer, Connie Palmen. The article featured this image, in which the bookshelf-system specifically designed to fit Connie's books can be seen in the background.
image: Mark Kohn, NRC Handelsblad
"Days of Dutch Architects" Event in Tbsili, Georgia
17 December 2012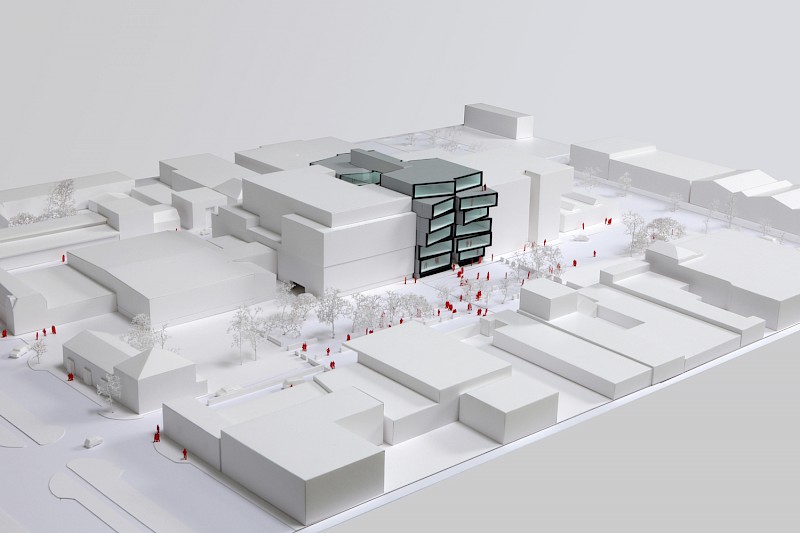 The Dutch Embassy in Tbilisi and Dr. Lena Kiladze - Associate Professor of Georgian Technical University, a.o. visiting Scholar of GSAPP Columbia University – are organizing an event to promote Dutch Architecture in Georgia. As Georgia is transforming and modernising itself urban and regional development can be seen everywhere, from Tbilisi, Kutaisi to Batumi.
allard architecture will be taking part at this event and our Matchbox model is going to be exposed at the exhibition.
Click here to download the posters allard architecture will be showing at the exhibition.
Holland-Brazil Corporations in the News
11 December 2012
allard architecture recently had the opportunity to participate in the Dutch Economic Mission to Brazil.
During the Economic Mission in Brazil, Allard Meine Jansen had the possibility to speak with our Princes Maxima, and hand her our book.
Downloadable here.
The local Brazillian newspaper Folha de S.Paulo published an article about the Mission, in which Allard Meine Jansen has been featured. All in all the Dutch Economic Mission to Brazil was a great success!
Architectenweb publishes Het Dak
24 October 2012
allard architecture's project "het Dak" has been featured on one of Holland's leading architecture websites architectenweb.
Early 2013 the first phase of this extraordinary project will commence.
Click here for the article.
Final Deliberation on the Overhoeks Tower
3 October 2012
This coming Friday 5 october, will be the final deliberation of who is going to be the new owner and developer of the old Shell tower Overhoeks.
The Overhoeks Tower, which previously served as a central Amsterdam office for Royal Dutch Shell, is to be given a new lease of life. Five parties were selected to to breathe new life into the Overhoeks Tower on the
banks of the River IJ. They all made their own plan and vouch for the development, realisation, financing and subsequent operation of the Overhoeks Tower.
allard architecture has been part of one of the five parties who were selected to make a plan for the new program of the Overhoeks Tower.
The Overhoeks Tower is an eye-catching office complex located opposite Amsterdam Centraal railway station, across the River IJ. The 1969 building is 80 metres high and was designed by the architect Arthur Staal. Although used as an office by Shell for many years, its distinctive features include a sky lounge, providing a spectacular view of Amsterdam, and lush gardens. The latter, known as Tolhuistuin, has recently been repurposed for cultural activities.
Economic Trade Mission in Brazil
27 September 2012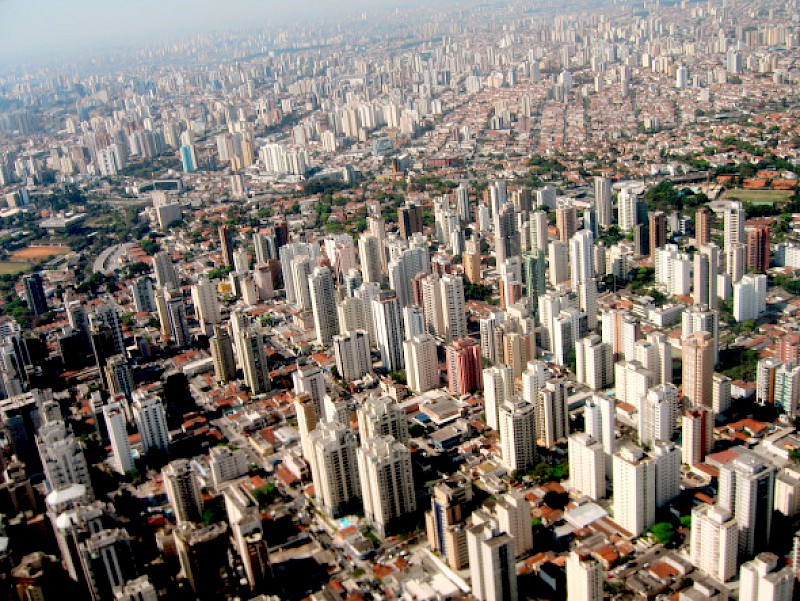 Our Dutch minister of Trade, Commerce and Innovation, together with the our crown Prince and Princes will be visiting Brazil with a delegation of representatives of agribusiness, yacht building, airline, architecture & design, water and suppliers of the World Cup 2014 and the Olympics 2016
The aim of this mission is to intensify further cooperation between the Netherlands and Brazil and is organized by the Dutch Ministry of economic affairs.
allard architecture will take part in the delegation of architecture & design together with Architecten Cie, Benthem & Crouwel, Designed by Erick van Egeraat, Dick van Gameren Architecten, KCAP, Kuiper Compagnons, Mecanoo, MVRDV, Neuteling en Riedijk, OMA, Selfservice Urbanism, UN Studio, van Dongen-Koschuch, Verhoeven CS, Vera Yanovshtchinsky Architecten, Zwarts & Jansma.
We will use our experience to revitalize neglected areas and buildings in Brazil. Allard architecture believes that this should get priority over expansion through mass building all over the world.
De Woezel Public Meeting
28 August 2012
Last night a public information session was arranged by allard architecture to discuss the future of De Woezel project. The feedback recieved was excellent and the session was entirely productive and informative to both ourselves and the general public.
Pensionfonde Architectenbureau Publish Interview with Allard Meine Jansen
22 May 2012
Allard has been featured on this month's edition of Pensionfonde Architectenbureau's publication.
WHO NEW Exhibition in Sydney
15 June 2011
Silvester Fuller's exhibition 'Who New' attracted a lively crowd for the opening last night. The exhibition, showcased in the UTS Warehouse Chippendale, showcases 12 new architecture studios from around the world with whom we share a common collaboration experience. Special thanks to our photographer for the evening Marc Stringa.The exhibition will run until 8th July. For more information including opening times etc click here.

The studios on exhibition are: Haberstroh Schneider | Haas Architecture | Barcode Architects | Studio Terpeluk | Studio Becher |allard architecture | ILAI | Chartier Dalix | Studio Bonner | Volkan Alkanoglu | Cast Architecture |Studio Wet
http://silvesterfuller.com/news/who-new/#more-1127
Allard Architecture at Provada 2011
7 June 2011
Together with Piet Hein Eek, allard architecture was proud to attend the 2011 Provada Real Estate Meeting Point, which took place over three days at the Amsterdam Rai. Provada is a conference which allows representatives from various parties including architects, municipalities, property developers, tenants and many more, to present future development plans to potential investors.

With great excitement, we had the opportunity to present one of our current projects, Het Dak, making it public for the first time. In collaboration with Piet Hein Eek, we have brought forward a project which is strong conceptually and structurally, and we are very pleased to have received the complements from the other parties involved.

See our project folder for more information on het dak.
Photos by janus van den eijnden